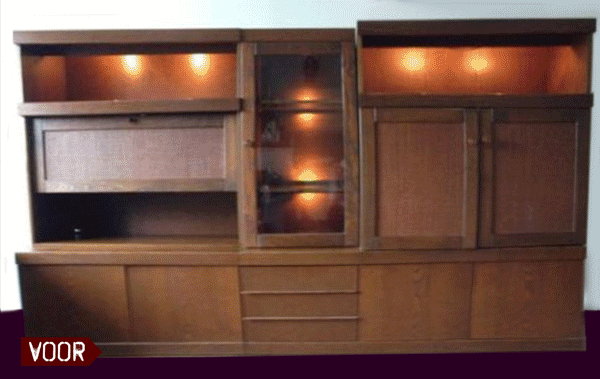 Dit wandmeubel van een oma hebben wij gekocht uit een inboedel. We hebben de indeling veranderd en de kast helemaal geschilderd tot een prachtige en moderne TV-kast. Om de Abbondanza Softsilk verf beter tegen beschadigingen te beschermen, hebben wij deze helemaal in een sterke zijdeglans lak gezet.
De RGB LED-verlichting met afstandsbediening (optioneel) maakt uw interieur  weer helemaal hip & happening !
De kast bestaat uit 5 losse delen en kunnen naar eigen inzicht geplaatst worden.

Formaat: B 250 / D 55 / H 150 cm
Prijs: € 1400, -
 
This was an old granny's cabinet.  We re-styled and re-painted it into a beautifull trendy cabinet.
To protect the paint from damage, we have equipped the entire TV cabinet with a lacquer layer.
The RGB LED-lighting makes this piece of furniture item hip & happening again in your interior !  
The cabinet consists of five separate parts and can be placed at their discretion.