Uniek en persoonlijk bijzettafeltje gemaakt van restmaterialen uit ons huis, waarvan de 6 kanten (waarvan 1 open kant) allemaal een ruimte van onze woonomgeving representeren: 
1- metalen plaatjes uit de wijk van de eettafel. 
2- restanten pallethout wat op de muur van de zolderkamer zit. 
3- een stuk kozijn uit de keuken met wat vloerdelen van de middenverdieping. 
4- plankjes rest hout van het fietsenhok. 
5- eiken vloerdelen van de woonkamer met onze naam erop vd handelaar.
De binnenkant is afgelakt en voorzien van een hip fluor randje rondom.
Het tafeltje kan ondanks de ruwe materialen en grillige vormen op elke willekeurige kant neergezet worden. 
Dit bijzettafeltje is uniek en een andere kan alleen in opdracht én in samenwerking met u als klant gemaakt worden. Voor vragen, een offerte of een bestelling kunt u mij een e-mail sturen.
Unique and personal side table made ​​from waste materials from our house. The six sides (including 1 open side) all represent a space of our living environment:
1 metal plates from the area of ​​the dining table. 
2 scrap pallet wood that sits on the wall of the attic. 
3 a piece frame from the kitchen-window with some floorboards from the middle floor. 
4 parts of wood of the bike shed. 
5 oak floorboards in the living room with our name on it from the dealer. 
The inside is painted and fitted with a hip fluorine edge all around.
The table can be in spite of the raw materials and whimsical shapes on any side put down.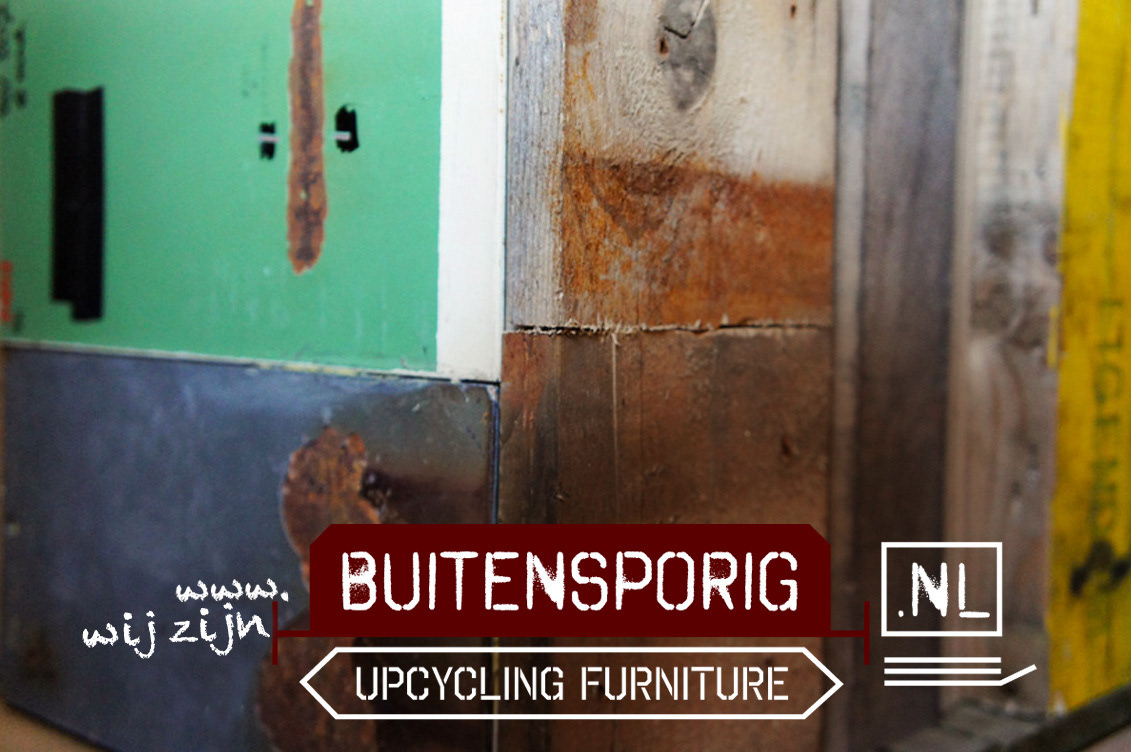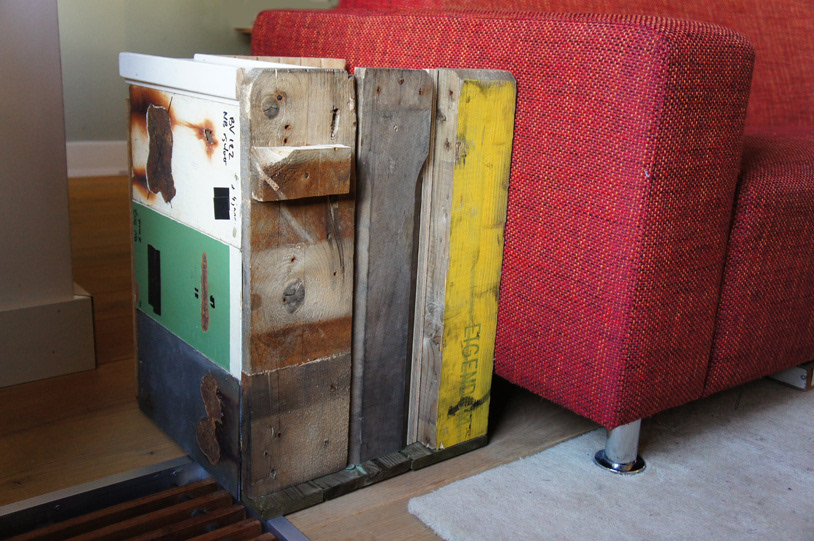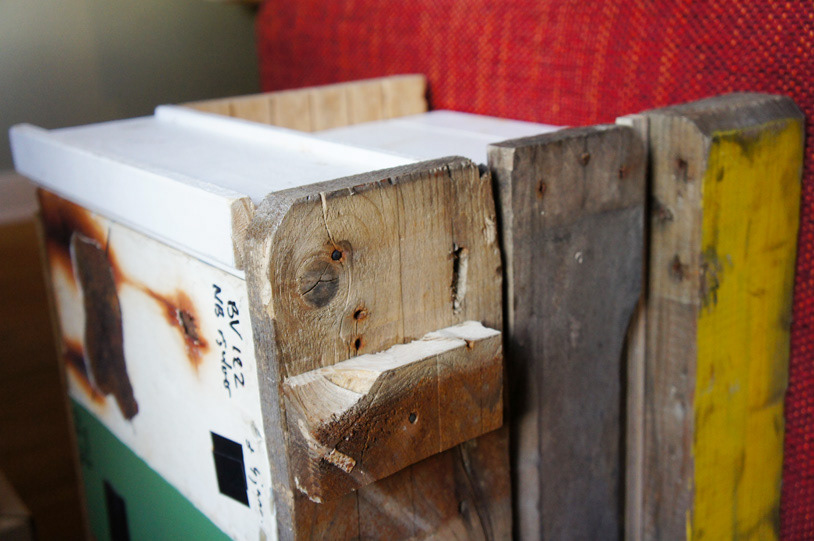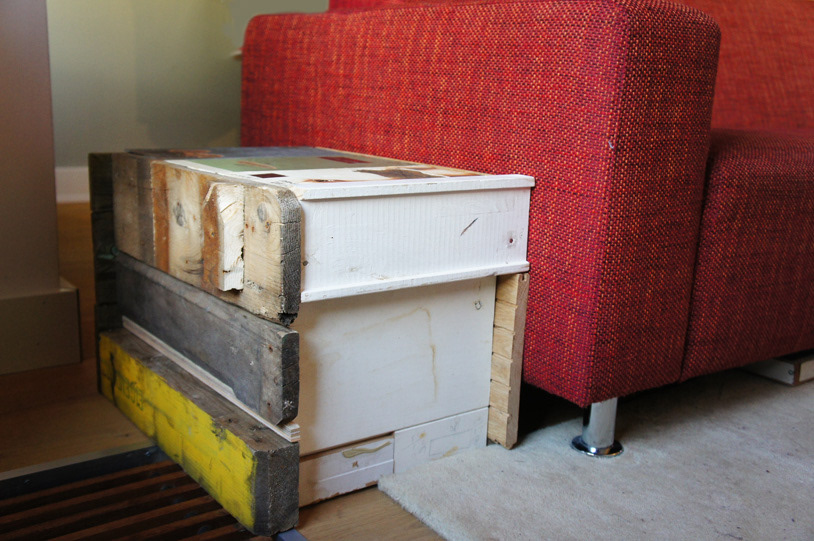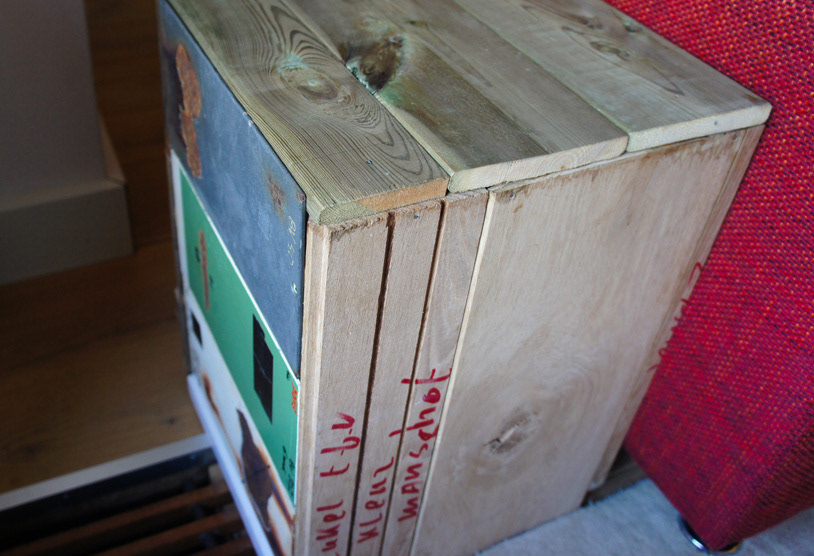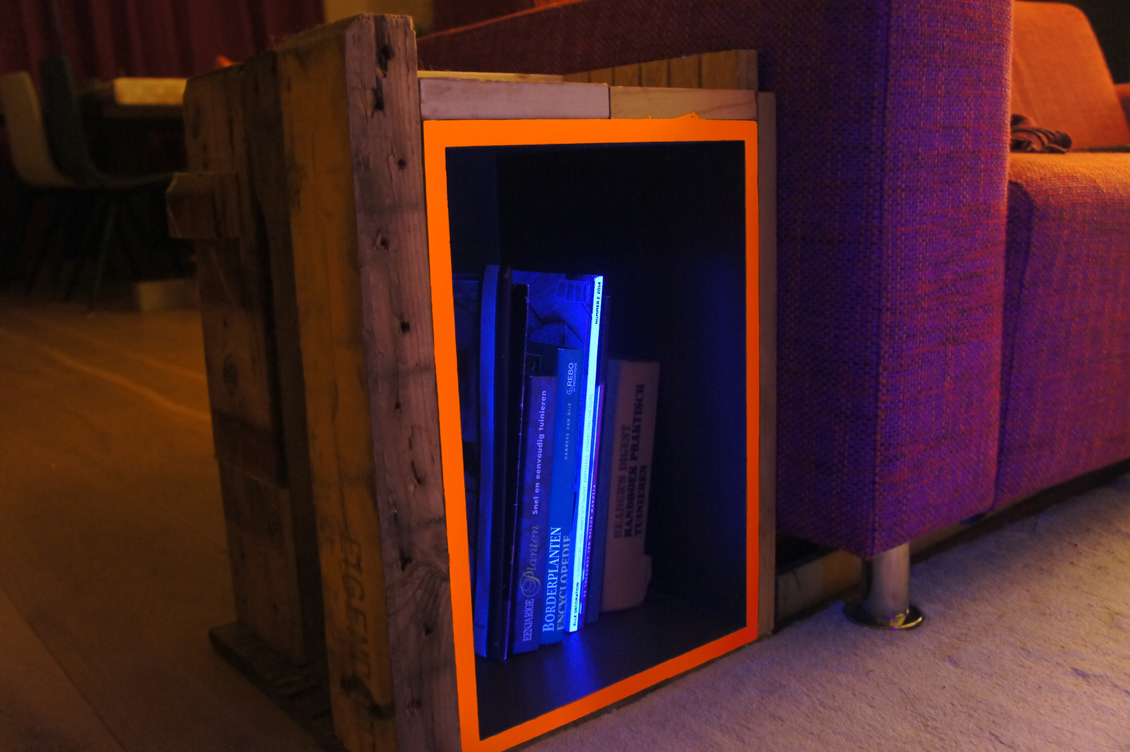 BUITENSPORIG

is een nieuw samenwerkingsverband tussen Diego Schorr en ECHT! Johan Manschot. Diego heeft een achtergrond als meubelmaker bij o.a. Brandwacht en Meijer en Johan als grafisch ontwerper en decorateur bij o.a. MysticGrooves. Begonnen als 2 vrienden die vakkennis, ideeën en atelier hebben en graag hun horizon willen verbreden naast hun reguliere werkzaamheden. We zullen naast het up-cyclen van meubeltjes ook allerlei gevonden materialen van UrbanExploring-trips verwerken in onze ontwerpen. Onze 'Industrieel meets Klassiek meets Design meets Graffiti-stijl', zal een spannende en bijzondere mix opleveren van unieke items voor in je huis of werkplek...
BUITENSPORIG

( Extraordinary / Out of the Box ) is a new partnership between Diego Schorr and ECHT! Johan Manschot . Diego has a background as a furniture maker at "Brandwacht and Meijer" and Johan as a graphic designer and decorator at "Mystic Grooves". Started as two friends who will use their expertise, ideas and workspace and would like to expand their horizons beside their other clients. We will be in addition to up-cycling of furniture also use all kinds of found materials from Urban Exploring trips in our designs. Our " Industrial meets Design meets Classical meets Graffiti - style ' , will create an exciting and special mix of unique items for your home or workplace ...
www. wij zijn Buitensporig .nl